WHAT IS KNOWLEDGER?
At Knowledge Associates, we have developed a Knowledge Platform called 'KNOWLEDGER' (mobile and cloud based) especially designed for individuals, teams and entire organisations and communities to better manage their knowledge assets and achieve extraordinary knowledge driven results.
Through far more effective knowledge strategies, knowledge processes, knowledge tools, and knowledge working, KNOWLEDGER is a system to create, protect, transfer and apply the best knowledge, through a series of distributed 'knowledge ledgers' and knowledge asset management and reporting techniques.
KNOWLEDGER is a 21st Century knowledge asset management and accounting system.
If you are interested in testing and evaluating KNOWLEDGER, you can open a free account and start here, right now! All you will need to use KNOWLEDGER is a smart phone or tablet or laptop computer, or any combination.
WHAT CAN KNOWLEDGER DO FOR YOU?
KNOWLEDGER is an initial suite of 16 applications specifically designed to help knowledge driven individuals, teams, entire organizations and communities.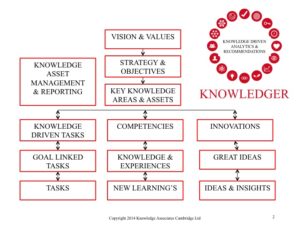 Although it is possible to start using KNOWLEDGER effectively as a team, organisation or community, we strongly recommend that you first start to evaluate KNOWLEDGER and effective knowledge working as an individual.
WHY START WITH THE INDIVIDUAL?
It is very easy to understand the benefits, and make the business case, for effective knowledge working for a team, organisation or community. In simple operational terms, costs can be dramatically reduced through 'not re-inventing the wheel' and not 'repeating the same mistakes', performance can be dramatically increased through faster response times and higher quality decision making, and highly motivated and more productive people will continuously innovate. Most importantly, it is easy to make the business case that KNOWLEDGER keeps you focused, and all your tasks, your new learnings and insights, and your ideas, are aligned to achieving objectives.
But a business case, alone, is not likely to succeed. This is because it requires and assumes that individuals will readily accept and adapt to these new and better ways of working. This is not, normally, true. This is why many new initiatives fail or simply achieve mediocre results.
Many people today tell us that they are, in principle, very keen to develop effective knowledge working skills in their organisations for the future, but, before they can even find any time at all to do this, they tell us that they are suffering from information overload (too much information to handle) and cognitive overload (too much complexity). Many suffer from learning overload (too much to keep learning) and even creativity overload (too many ideas resulting in no further actions). They tell us that there is too much stress in the workplace for many. Many feel that they have little meaning and purpose at work, little or no time to reflect on the bigger picture, and so they become less motivated, with little focus and low knowledge working productivity.
In today's rapidly growing global knowledge economy and society, it is no longer good enough to just tolerate the old, classical, and  mediocre ways that we have been taught in the past, to manage our time, tasks, projects, information, knowledge, and, especially, our most powerful knowledge assets, which are often ignored through lack of awareness. It is no longer good enough to create and innovate in slow, traditional, expensive and highly specialised ways.
Effective communication, collaboration, accelerated learning, rapid knowledge creation, knowledge sharing & transfer, knowledge application, strategic knowledge asset management, creativity and continuous innovation, are now possible for everyone! The knowledge systems and tools to empower us are now here!
At Knowledge Associates, within KNOWLEDGER, we have developed what we consider to be some of the best methods, tools and techniques available in the world today.
KNOWLEDGER Platform is based on the Google Cloud Platform so it is :
using one of the most powerful and most secure world class platforms, fully managed by Google
entirely scalable from an individual to teams, an organisation, or a massive global community
using machine learning to confidentially and continually learn, with and about you, to then coach, mentor and assist you / your team / your organization /your community, to better leverage the world's knowledge
continually researching and using world leading proven methodologies to manage your time, tasks, information, knowledge, knowledge assets, creativity and innovation
able to much better protect and report on your great ideas and manage your intellectual/ knowledge assets, through distributed and immutable global block chain technologies
based on the latest global ISO standards and principles for knowledge, quality and asset management
There are now new and much better ways to more collectively and systematically work with knowledge and knowledge assets, and more relentlessly and continuously innovate. The methods, tools and techniques for effective knowledge and innovation management and high knowledge productivity are now here for everyone!
HOW DO I START USING KNOWLEDGER?
To start using KNOWLEDGER , you will need to know just a few things first:
You must be prepared to start using KNOWLEDGER gradually and simply, one module at a time.
Work habits are often hard to change, so you must be open minded to learn the benefits for you, your team, and your organisation or community.
Each of the 16 modules can take between one week and one month or more to learn the basics, experience and master, depending on your individual input, time, effort and progress.
You must be prepared to start using KNOWLEDGER as an individual for at least the first few modules, before using KNOWLEDGER as a team, or using KNOWLEDGER as an Organization. This personal experience will 'change your personal paradigm' for knowledge working.
KNOWLEDGER is your personal virtual intelligent assistant who will learn with you, and coach and mentor you throughout the KNOWLEDGER program.
Although it's very possible to self learn and evaluate the basics of KNOWLEDGER,if you are self-disciplined,  you may like to consider developing the more advanced features with the assistance of a Knowledge Associates Consultant / Educator / Coach / Mentor, to help you to fully customise KNOWLEDGER to your needs.
In return for your usage of KNOWLEDGER at the basic level, we simply ask you to provide us with your frank feedback on usability and usefulness, and any ideas for improvement, from time to time.
If this excites you to continue further, you will need to :
Open a simple account with your name, email and a password here
Read the one page instructions for module 1 here
Bookmark KNOWLEDGER for future use (at kgr.kacambridge.com)
Start using KNOWLEDGER and continue using KNOWLEDGER until it learns and informs you that you are ready for the next module and tool.
Participate in a growing global KNOWLEDGER community
We hope you will join us and we hope that KNOWLEDGER will help you to better leverage the world's knowledge to better achieve your objectives and achieve extraordinary results!
If you have any questions, concerns or feedback before proceeding further with KNOWLEDGER, please contact us here :
Knowledge worker productivity, learning, competence development, creativity and innovation, are the new knowledge currencies for the 21st Century for successful knowledge driven organizations.
"The most important, and indeed the truly unique contribution of management in the 20th Century was the fifty fold increase in the productivity of the MANUAL WORKER in manufacturing. 
The most important contribution management needs to make in the 21st Century is similarly to increase the productivity of KNOWLEDGE WORK and the KNOWLEDGE WORKER."
Professor Peter F. Drucker, 'Management Challenges for the 21st Century'.
—————————————————————————————————————————
At Knowledge Associates we have designed a series of 16 on-line learning modules, linked to an integrated cloud based knowledge platform from Google, to teach ways to increase the productivity of knowledge working, unleash creativity and manage better innovation.
KNOWLEDGER is an on-line learning programme designed for individuals, teams, entire organisations, and communities. It is a learning system designed for use on smartphones, tablets and computers. KNOWLEDGER starts with one FREE learning module and, through mastering one module at a time, it teaches the simple but powerful knowledge driven tools and techniques, and develops the competencies for effective knowledge working, knowledge management and innovation.
WHY KNOWLEDGER?
"The global knowledge economy is the fastest growing economy today. Those individuals, teams, organisations, communities and nations, that manage their knowledge assets wisely, will dominate the 21st Century"
Ron Young, Knowledge Associates International
————————————————————————————————————————–
The aim of the KNOWLEDGER learning modules is to make a 'big difference' to helping you achieving your personal and organisational results. Extraordinary results require an extraordinary mindset, extraordinary methods, and extraordinary teaching tools.
KNOWLEDGER will change the way you think, and teach the new and better way for you to work, in an increasingly mobile, knowledge driven, and inter-connected web world.
HOW TO GET STARTED WITH KNOWLEDGER?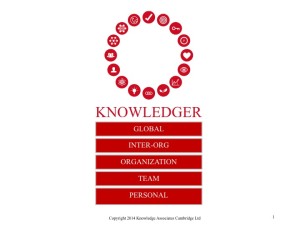 As an individual, team, or entire organisation, you can get started with KNOWLEDGER learning modules now!
We provide you with the first learning module free of charge, so that you may start to evaluate the value that the KNOWLEDGER platform can bring to you. Once you have mastered this, you can be provided with further learning modules at your own pace.
At the heart of KNOWLEDGER platform and learning modules is a new 21st Century learning pedagogy:
An analytics engine
Knowledge bases, that are continually improved, with how to best achieve results and manage knowledge as a knowledge worker
A recommendation engine, which is your intelligent learning assistant to individually coach and mentor you
A knowledge platform from Google for 'in-cloud' or corporate 'in-house, just in time, on demand' learning services
24/7 support services
Our aim is to progressively help you to develop your knowledge, skills and mindset, from novice to knowledge working mastery.
Get started now .
For more information on any of the above KNOWLEDGER learning modules, please contact us at