WHAT IS KNOWLEDGER?
"The most important, and indeed the truly unique contribution of management in the 20th Century was the fifty fold increase in the productivity of the MANUAL WORKER in manufacturing. 
The most important contribution management needs to make in the 21st Century is similarly to increase the productivity of KNOWLEDGE WORK and the KNOWLEDGE WORKER."
Professor Peter F. Drucker, 'Management Challenges for the 21st Century'.
—————————————————————————————————————————
Knowledge worker productivity, learning, competence development, and creativity and innovation, are the new knowledge currencies for the 21st Century for successful knowledge driven organizations.
At Knowledge Associates we have designed a series of 16 on-line learning modules, linked to an integrated cloud based knowledge platform from Google, to teach ways to increase the productivity of knowledge working, unleash creativity and manage better innovation.
KNOWLEDGER is an on-line learning programme designed for individuals, teams, entire organisations, and communities. It is a learning system designed for use on smartphones, tablets and computers. KNOWLEDGER starts with one FREE learning module and, through mastering one module at a time, it teaches the simple but powerful knowledge driven tools and techniques, and develops the competencies for effective knowledge working, knowledge management and innovation.
WHY KNOWLEDGER?
"The global knowledge economy is the fastest growing economy today. Those individuals, teams, organisations, communities and nations, that manage their knowledge assets wisely, will dominate the 21st Century"
Ron Young, Knowledge Associates International
————————————————————————————————————————–
The aim of the KNOWLEDGER learning modules is to make a 'big difference' to helping you achieving your personal and organisational results. Extraordinary results require an extraordinary mindset, extraordinary methods, and extraordinary teaching tools.
KNOWLEDGER will change the way you think, and teach the new and better way for you to work, in an increasingly mobile, knowledge driven, and inter-connected web world.
HOW TO GET STARTED WITH KNOWLEDGER?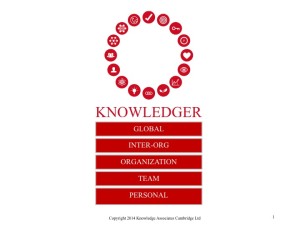 As an individual, team, or entire organisation, you can get started with KNOWLEDGER learning modules now!
We provide you with the first learning module free of charge, so that you may start to evaluate the value that the KNOWLEDGER platform can bring to you. Once you have mastered this, you can be provided with further learning modules at your own pace.
At the heart of KNOWLEDGER platform and learning modules is a new 21st Century learning pedagogy:
An analytics engine
Knowledge bases, that are continually improved, with how to best achieve results and manage knowledge as a knowledge worker
A recommendation engine, which is your intelligent learning assistant to individually coach and mentor you
A knowledge platform from Google for 'in-cloud' or corporate 'in-house, just in time, on demand' learning services
24/7 support services
Our aim is to progressively help you to develop your knowledge, skills and mindset, from novice to knowledge working mastery.
Get started now .
For more information on any of the above KNOWLEDGER learning modules, please contact us at